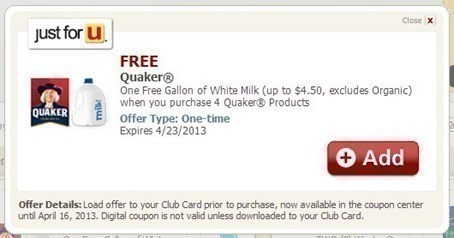 Check your Vons (Safeway store) Just4U account to see if you have a 'Buy 4 Quaker products get 1 Gallon of Milk FREE' (no size restriction for Quaker products) coupon.
If you have the Just4U coupon, you can get 4 Quaker single Granola bars (found with the candy bars at checkout lanes) + 1 Gallon of Milk for just $0.96!
Use (4) $0.75/1 Quaker Big Chewy Bars manufacturer coupon (no size restrictions) from 4/14 RP insert and Just4U coupon will make milk Free!
I just did this at my local Vons tonight and it worked perfectly! 
Photo Credit The Centsable Shoppin!